ABOUT US
Children's Smile and Inspiration (CSI-TIWAN ) is a non-profit organization in Taiwan. The mission of CSI-TAIWAN is to ensure each child has a better future though the co-operation with global non-profit organizations, long-term planning and implementation of field development based on humanitarian.
The Abbreviation of CSI-TAIWAN's core values is "human". The meanings are as following:
H: Health and Rights Health and right
U: Universality and Locality
M: Method and Evidence
A: Alliance and Development
N: Non-discriminatin and Equality
The vision of CSI-TAIWAN is that every child has equal rights of physical and mental health.

│Benevity
CSI-TAIWAN (Children's Smile and Inspiration) has registered with Benevity, an international fundraising platform. Benevity is a global leader in corporate social responsibility, providing services such as online giving, donation matching, volunteering and comprehensive donation. Many of the world's most iconic brands have chosen Benevity to handle its charity project. If your company is looking for a program to direct your donation via Benevity, CSI-TAIWAN will be an ideal designation to help your company pursuit meaningful purpose. Overseas companies are welcome to support CSI-TAIWAN via Benevity. Please search the ID as follows: 158-5740836170618_3154
Here !! 👉 Make a Donation through Community Impact Portal (Benevity)
Scholarship Project for Children of Cambodian Village ( CASCH2019 )
In order to provide a better environment for children to go to school, CSI-TAIWAN co-operate with our local partner KAKO organisation in this scholarship project. In 2019, there are 22 Taiwanese sponsors recruited to monthly give finical support 22 children of village. This project aims to let children/family in poor village could break the vicious circle of poor in their life. KAKO: Khmer Akphiwat Khmer Organization, which is dedicated to illiterate education for adults and children in Cambodian villages.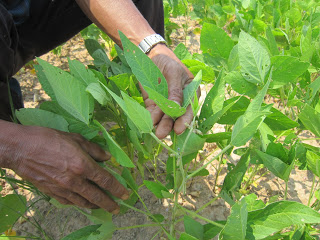 Project of Cambodian Soybean Planting in Cambodia ( CAPLANT )
This project is extended from the Project of Soybean-milk Nutrition Supplement. We began to cultivate soybeans at from of Pro-hut village since the end of 2017. However, we still not succeed because of the bad condition of the soil, the rainy season and reasons which we still not find.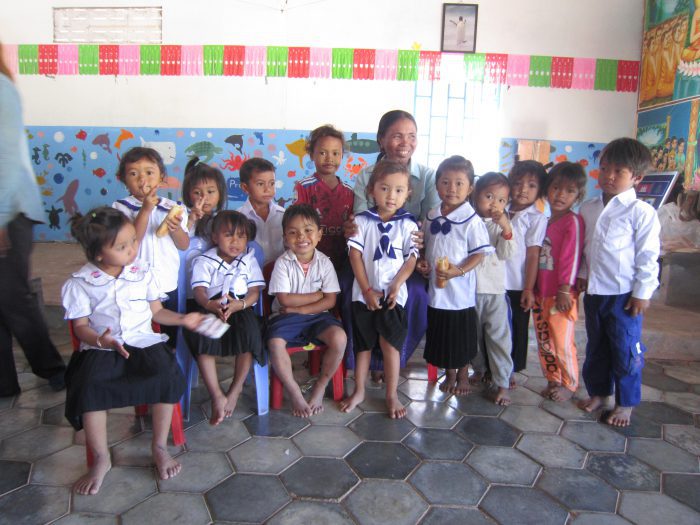 Green Apple Preschool in Pro-hut Village, Cambodia ( CAPRESCHOOL )
Only children who have a well development before attending primary schools can have an efficiently absorption from learning in schools. In July 2017, CSI-TAIWAN carried out an evaluation of children's development in Pro-Hut Village. From the results of the evaluation, children of Pro-hut village, especially preschool children, generally had development delayed. Preschools are the best way to let toddlers prepare and learn a lot by exploring and playing before they attend elementary schools. Preschools also help children gain basic knowledge and acquire social skills. In order to improve the delayed development of these children, CSI-TAIWAN and KAKO organization opened a preschool called green apple preschool since November, 2018 in Pro-hut village and use it to do activities such as training course of parent-child joint book reading. Green Apple Preschool support the poor children in the rural area to learn and improve cognitive development. In long term, the preschool will flip children's future.
KAKO: Khmer Akphiwat Khmer Organization, which is dedicated to illiterate education for adults and children in Cambodian villages.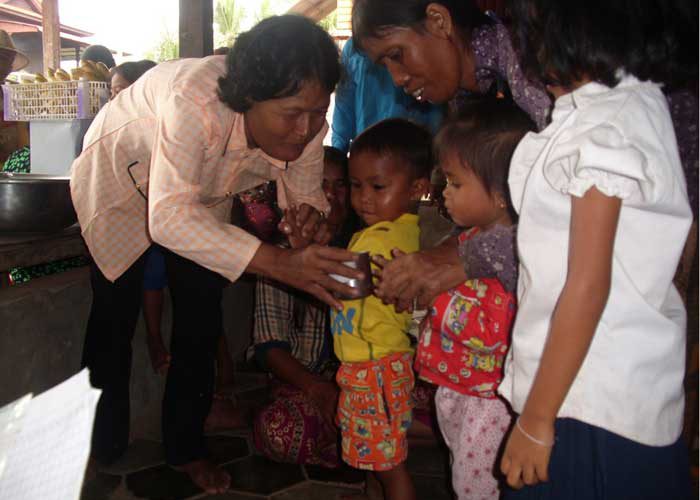 The Project of Nutritional Supplement in Village of Cambodia ( CA3460 )
Cambodia still now ranks among the poorest countries in the world. Families living in poverty do not have access to to provide adequate nutritious food for their households. Because of poverty, most children eat two meals per day consisting of rice and vegetables. This poor quality of diet is the main factor responsible for persistently high levels of children's malnutrition. Pro-Hut is a poor village in Siem Reap and from our investigation in 2014 showed that malnutrition rate of children of this village is 68% (Underweight 35%; Stunted 13%; Wasted 20%). After that, CSI-TAIWAN cooperated with the local NGO, Khmer Akphiwat Khmer Organization (KAKO) and has started the project of nutritional supplement. Briefly, this project gave children older than 6 months in the village a cup of soy-bean milk (250 c.c.) every day. The soy-bean milk was made by the appointed women in the village hired by CSI-TAIWAN. After six months of nutritional supplement, the malnutrition rate significantly decreased to 40% (Underweight 12%; Stunted 18%; Wasted 10%). This project is still continued and never stops. In order to maintain the project of Nutritional Supplement for children of village, we still needs financial help.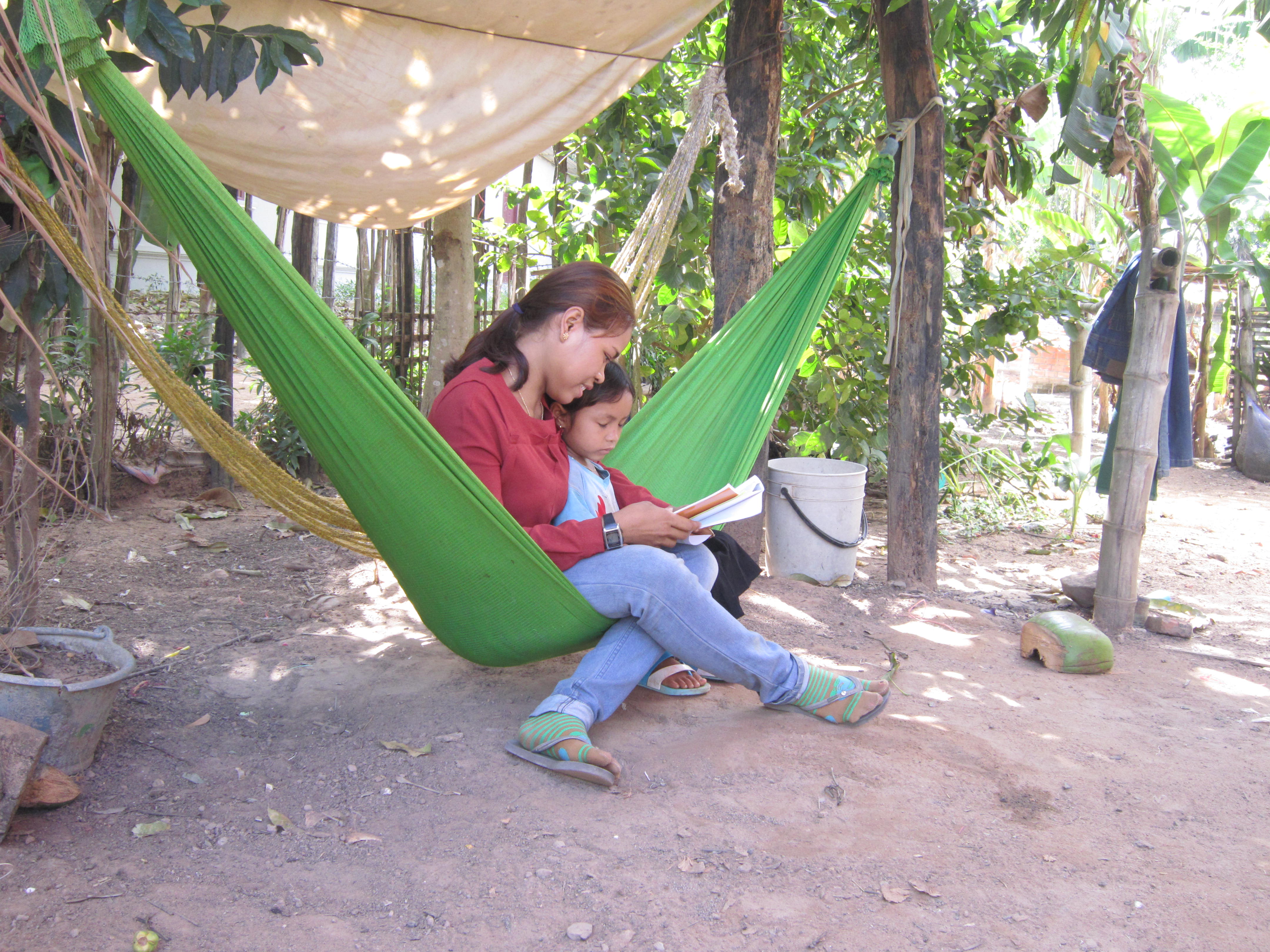 The project of empowerment of Village women's ability of joint reading with preschool children
This project was derived from the result of children's development assessment at pro-hut village, Cambodia in July 2017. The investigation was performed by a pediatric neurology physician and a pediatric developmental therapist. The results showed that children of 2-6 years old were in a backward situation in all aspects of development ( language was not evaluated ). Slow development will result in poor learning efficiency after attending primary school, leading to the dark future. In order to improve the recolonization of number, quantity, size, shape, color and sense of language of preschool children in the village, CSI-TAIWAN co-operated with our local partner, KAKO organization, and group of department of international and comparative education (DICE), Jinan University in developing this women empowerment project. The main purpose of this project is to improve women's ability to read picture books with their preschool children so that accelerating the development of children by repeated conceptual stimuli.KAKO: Khmer Akphiwat Khmer Organization, which is dedicated to illiterate education for adults and children in Cambodian villages.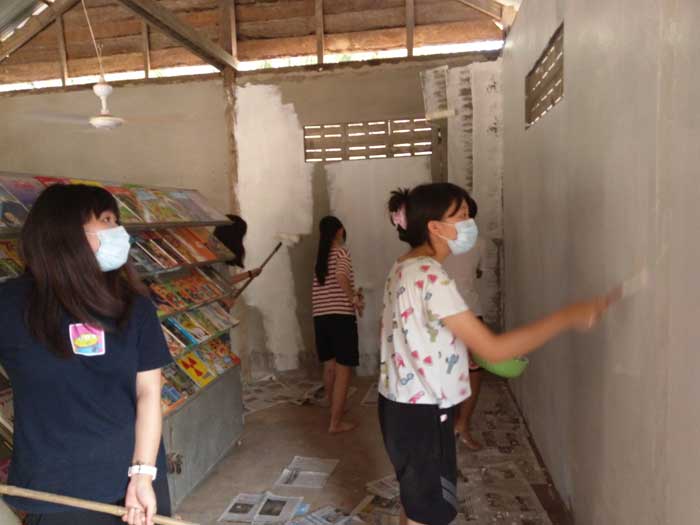 The Project of Village Library Re-construction, Cambodia
The public library space in the Pro-hut village of Siem Reap, Cambodia was originally a simple building for activities built by palm leaves. Since 2014, CSI-TAIWAN has gradually been assisting the reconstruction of the library in order to make the library as place for villagers meeting, providing children soy-bean milk for nutritional supplements, as the pre-school and other multi-purpose use. Through the reconstruction of the library, the community awareness is condensed and the willing of villagers to independently participate the projects is significantly increased.